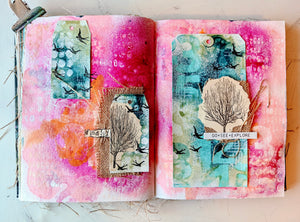 Go See Explore - Journal Spread
Laura Dame, a member of the 100 Moons Creative Team has created  beautiful  tutorial on how she experimented with her supplies to create this lovely art journal layout. You can find all the details on the 100 Moons Creative Team Blog.  Please e-mail me with any questions or concerns.  And don't forget to subscribe to the 100 Proof Press Newsletter. 
Welcome!
EVERY ITEM WE SELL ONLINE AND IN OUR PRINT CATALOG IS IN STOCK, ALL THE TIME. YOU NEVER HAVE TO WORRY THAT AN ITEM IS GOING TO BE BACKORDERED!
News
Here is an art journal page by Laura Dame.  She used collage papers, rust dyed fabrics, and other pieces she had laying around. Here's her tutorial on she created this...