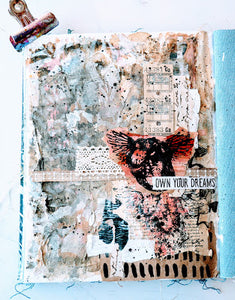 Here is an art journal page by Laura Dame.  She used collage papers, rust dyed fabrics, and other pieces she had laying around. Here's her tutorial on she created this mixed-media journal page. The first thing I did was stamp with some acrylic ink, then on top of that I glued down a layer of rust dyed fabric. I have been really loving the texture the fabric brings, and sometimes the rust really pops when you glue it down.  I painted with some more acrylic ink and coffee, did some more paint stamping, and then started my collage. I knew...
---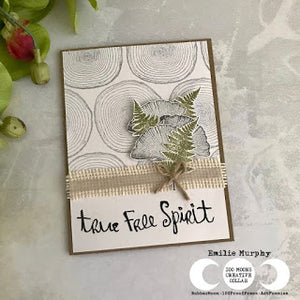 Here's a quick tutorial on how to stamp a beautiful card to make this Autumn season. Emilie takes us through step-by-step on how she used these nature-themed stamps to make this lovely card.
---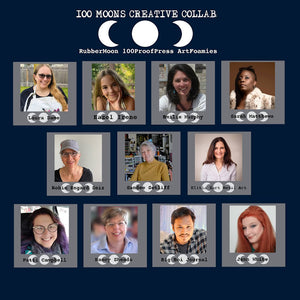 Introducing the 100 Moons Creative Team, a collaboration with RubberMoon, ArtFoamies, and 100 Proof Press: Laura Dame, Hazel Irene, Emilie Murphy, Sarah Matthews, Robin Seiz, Sandee Setliff, Elitia Hart, Patti Campbell, Nancy Sheads, Big Boi Journal, and Jenn White.
---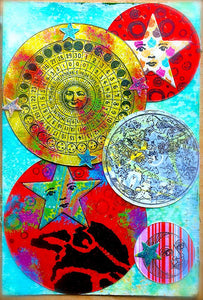 This Saturday is the longest day of the year - perfect for a stamping marathon! I hope to find sometime in that long day to get my stamps out and create something. Thank you to every artist that applied for the 100 Moons Creative Team.  We will be introducing the team members on July 1st! Artwork by Kersten Christianson 100 Proof Press Stamps: Sun-Moon Circle, Full Constellations RubberMoon Stamp: Full Moon
---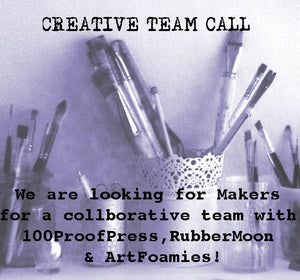 We are looking for 8 unique, diverse, and creative makers to join the 100 Moons Creative Team!